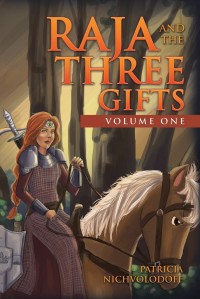 Raja and the Three Gifts
Warrior Princess Story "Raja and the Three Gifts" Gets a Website
BRITISH COLUMBIA, CANADA, July 27, 2017 /EINPresswire.com/ — Author Patricia Nichvolodoff of the famed children's book, "Raja and the Three Gifts" will launch her hotly awaited book website.
A book that is described as a stunner and "compelling from start to finish", Nichvolodoff created a fiercely emotional story that deserves a website to boot.
"Raja and the Three Gifts," tells a story of a young peasant girl, named Raja, who is forced to leave her village to work for a lord and his son, Pavel. A revelation of Raja's real identity turned her life around and the people around her.
"Raja and the Three Gifts", introduces Raja's adventure and misfortunes and interesting characters that will make the book an interesting read.
The occurrence of the orb, her seemingly unexplainable dream, her fleeting peasant life to her courageous rise as a princess warrior, Patricia Nichvolodoff's book is a gorgeously–written fantasy created not just to give a light-hearted story but allows her readers to manifest the lessons she wishes to convey, which includes courage, hope, and sheer determination. It also sparks imagination, exploration and creativity among its readers.
The creation of the website www.rajaorb.com is a pathway for a simple, easy-to-navigate site which offers the best resource for e-reading, and best deals for the fantasy book not to mention an engaging personal connection of readers to the author.
About the Author:
Patricia Nichvolodoff lives with her husband in Castlegar, British Columbia. Nichvolodoff received a Bachelor of Education from the University of British Columbia. She then went on to gain a Masters of Education from the Simon Fraser University, with a focus on Numeracy. Before Nichvolodoff began a writing career she spent numerous years teaching children of all ages.
Nichvolodoff's diverse experience has led her to create a novel series for preteens to young adults that is full of suspense and drama. She focuses on positive family and friendship relationships. Common themes for her stories are helpfulness, courage, forgiveness and justice. Three most important things in Nichvolodoff's life are her relationship with God, spending time with family, and helping others.
Product details:
Paperback: 262 pages
Publisher: BookBlastPro Inc. (May 20, 2017)
Language: English
ISBN-10: 1946854395
ISBN-13: 978-1946854391
Product Dimensions: 6 x 0.6 x 9 inches
Book Availability:
Amazon – http://goo.gl/EkBCiN
Booktopia – http://goo.gl/pJN5K3
Patricia Nichvolodoff
.
8885040951
email us here

Source: EIN Presswire