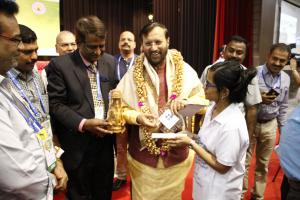 Shri Prakash Javadekar, Minister of Human Resource Development, India
Dr. Mahesh Sharma, Minister of State for Culture and Tourism
Prof Dileep N. Malkhede, Advisor, AICTE, New Delhi, India
Creative writing and publishing tool, MageQuill, is now poised for its global expansion, having has been warmly welcomed by users in India.
DORNIE, SCOTTISH HIGHLANDS, UNITED KINGDOM, April 2, 2018 /EINPresswire.com/ — Mossytop Dreamharvest, a Highland based publisher and Edtech company, made its debut into India at the Smart India Hackthon Grand Finale at the JSS Academy of Technical Education, NOIDA. Swara Shukla, a creative writing graduate from Glasgow university, represented the company when she presented the Indian Minister of Human Resource Development, the Honourable Shri Prakash Javadekar, with a token of Scottish creativity and innovation. Dr. Mahesh Sharma, Minister of State for Culture and Tourism, as well as Prof Dileep N. Malkhede, Advisor to the All Indian Council for Technical Education, also received a memento commemorating the event.
Since March, MageQuill, Mossytop's trademark creative writing tool, is now available to all Highland schools, in both the public and private sectors, and is as of April, also being rolled out in India. MageQuill allows students and writers under the age of 26 to unleash their creativity to write about today's issues, their concerns, their thoughts and ideas, without boundaries or borders within a nurturing online community of peers. This method of interaction is aimed at building confidence, increasing undertanding and creativity as well as improving communication skills, across all areas of learning.
This global community is now no longer just a Highland initiative, but a truly global one, with expansion to China and Australia following over the next few months.
Marianne Rugard Jarvstrat
Mossytop Dreamharvest ltd
07867945602
email us here
MageQuill Video dedicated to the participants at the Grand Finale of the 2018 Smart India Hackathon

Source: EIN Presswire