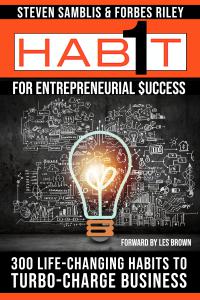 1 Habit For Entrepreneurial Success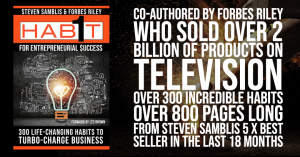 This 800 page book will become an instant classic and the Road Map to operating at the highest level in your entrepreneurial endeavors.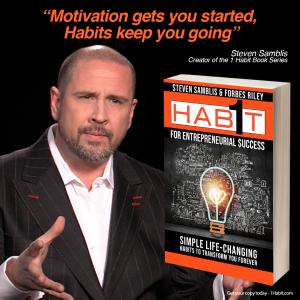 Steven Samblis – Founder of 1 Habit Press and creator of the 1 Habit book series
Find 1 Habit in this book and apply it – to change their lives forever. If you apply five Habits, you may change the World!"
— Steven Samblis – Founder of 1 Habit Press
LOS ANGELES, CA, USA, October 15, 2020 /EINPresswire.com/ — Tomorrow (Friday, October 16th), 1 Habit Press is hosting a huge launch party for the largest book on Entrepreneurial Habits ever published, and you are invited. The book is called 1 Habit For Entrepreneurial Success. It is 820 pages with over 300 Habits written by some of the Planet's most successful entrepreneurs.
To launch the book, 1 Habit Press is hosting an 8 hour Facebook Live featuring 60 contributors. The event goes live at 9:05 am PST at the 1 Habit Fan page www.facebook.com/1Habit and continues until 5 pm.
This day will be packed with incredible information to help turbocharge your business. Plus, a lot of free giveaways.
1 Habit For Entrepreneurial Success includes Celebrated Entrepreneurs from all walks of life, including:
Sharon Lechter – New York Times Bestselling Co-Author of Rich Dad Poor Dad
Frank Shankwitz – Founder of the Make–A–Wish Foundation
Joe Theismann – Super Bowl Winning Quarterback
Prescott Ellison – Grammy Award-winning drummer
Brian Smith – Founder of UGG Boots
Rob Angel – Creator of Pictionary
Chuck Liddell – Hall of Fame Mixed Martial Artist, Former UFC Light Heavyweight Champ
Don "The Dragon" Wilson – Martial Arts Action Star, 11-times Pro Kickboxing World Champion
Les Brown – Motivational Speaker, Author
Bas Rutten – Retired professional Mixed Martial Artist
Alec Stern – Co-Founder of Constant Contact
Kevin Sorbo – Producer, Director, Lead Actor in Hercules, The Legendary Journeys
Kerry Gordy – Multi-Platinum Music Producer
Paul Logan – Actor, Producer, Writer, Fitness Superstar
Marla Gibbs – Actress, 5-time Emmy Nominee, Golden Globe Nominee
Gary Lockwood – Star of 2001: A Space Odyssey, and the Star Trek pilot episode
1 Habit For Entrepreneurial Success is a book that can be a game-changer for you and your business. The company hopes all will attend the Facebook Live and get a copy of the book from Amazon today https://amzn.to/33PqLiW.
Steven Samblis
1 Habit Press, Inc.
info@1habit.com
Visit us on social media:
Facebook
LinkedIn

Source: EIN Presswire